About Lightway


Lightway was established in 2006,set up four companies in China mainland and owns two operating/sales companies in HongKong,with manufacturing factilities in Jiangsu/Jiangxi/Guangdong for solar cells,solar modules and solar applications etc and global marketing/sales company in Shenzhen,our current annual production/supply capacity is over 280MW for solar cells and 360MW for solar modules etc manufactured in CE/ISO/IEC/TUV/UL etc certificates.Lightway devoted to offering clients a one-stop shop for high quality products,solutions and engineering services with its extensive expertise in solar energy field.
In order to meet the quick development of solar industry and support our partners/clients as much as we can,Lightway also focusing on cutting solar cells over 8 years and has 14 Sets full automatic laser-semiconductor cut machines and skilled workers.
Every month our cut production capacity is over 5 million pieces different cut size solar cells for producing our solar modules and supply to our partners/clients from all over the world.
Our all cut solar cells just been cutted in full size A grade high efficiency solar cells,NON B Grade/C Grade/Broken solar cells.
Solar cell been cutted professionally by our skilled workders and packed perfectly without broken during the transit.
Viewing Eco-friendly as our first priority,Lightway is committed to maintaining high quality solar products and high standard services to grow with our customers in the 21st century and beyond as usually.
Our full-automatic laser-semiconductor cut machines and skilled workers

Half Cut Solar Cell been cutted professionally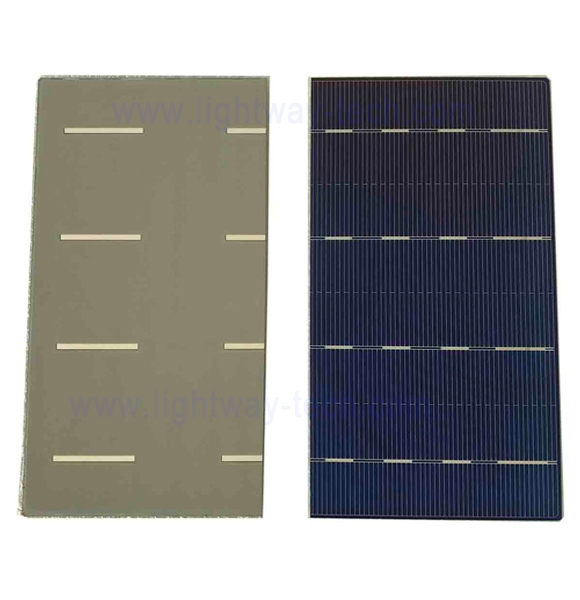 Our Half Cut Solar Cell been packed perfectly without broken during the transit