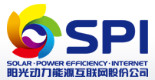 Solar Power, Inc. today announced that it has entered into a definitive share purchase agreement to acquire a controlling interest in Convertergy Energy Technology Co., Ltd.
Under the terms of the share purchase agreement, SPI will acquire 100% of the outstanding capital stock of Convertergy I Holdings Limited, which owns 76.8% of the equity interest in Convertergy Technology, for an aggregate consideration of US$13.8 million and will repay a shareholder loan of US$1.5 million owed by Convertergy Technology as well as accrued interest to the seller. Both the consideration and loan repayment will be settled in SPI's common stock. The transaction is subject to several customary closing conditions.
"As a leader in smart monitoring and optimization, Convertergy Technology further strengthens SPI's growing portfolio of PV smart solutions," said Xiaofeng Peng, Chairman of SPI. "The ability to offer advanced technology applications such as power optimization and big data analysis to traditional PV is increasingly becoming a major differentiator in the global solar industry, and combining Convertergy Technology's leading solutions with our Solarbao.com platform will create a fully integrated energy internet platform that we believe will create significant value for our customers and shareholders."