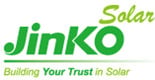 JinkoSolar Holding Co., Ltd. today announced that it supplied 34MW of solar modules to sPower for four solar power projects in Antelope Valley, California.
According to the terms of the contract, JinkoSolar supplied approximately 115,000 of its 305W high efficiency solar PV modules to sPower for the 34MW solar plant which is comprised of four separate projects located in Lancaster and Victorville, California. When fully operational, the sPower facility is expected to generate enough clean solar energy to serve the needs of approximately 4,110 homes per year, reducing emissions of CO2 by roughly 45,050 metric tons annually – the equivalent of taking nearly 10,000 cars off the road. sPower has a 20-year power purchase agreement in place with Southern California Edison (SCE) to purchase 34MW of clean energy output from the facilities. Swinerton Builders was the primary EPC for the project, which is expected to commence operations by November 30, 2014.
"The abundance of solar energy in California makes PV modules the ideal solution to fulfill local electricity needs, and JinkoSolar's durable, high-performance modules are well suited to such a demanding environment. It is with great pleasure that we effectuate our partnership with sPower, a truly prominent player in the solar industry, on what is anticipated to be an assembly of successful solar projects", said Mr. Nigel Cockroft, General Manager of JinkoSolar (U.S.) Inc. "We pride ourselves in our ability to provide high-quality products and contribute to the substantial growth of the US Solar industry."
"This is a significant milestone for sPower -- bringing online the first major group of projects after our merger with Fir Tree-backed developer Silverado Power earlier this year. The development of these projects has brought jobs and economic benefits to the Antelope Valley, while providing a sustainable future for the surrounding area," said sPower CEO, Mr. Ryan Creamer. "We look forward to teaming with JinkoSolar on many more projects. Their experienced team is extremely capable, and we are pleased with the quality and performance of their PV modules."
"Swinerton is proud to have been selected to work with the sPower and JinkoSolar team," said Mr. George Hershman, Swinerton Renewable Energy Vice President and Division Manager. "We share their commitment to delivering economical and responsible clean energy to rate payers."