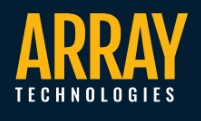 System reliability is always paramount and Bakersfield 111 Solar Park presents Array Technologies, Inc. (ATI) and ET Solar's turn-key solar financial solutions provider, ET Capital, with an interesting case in point. Not only does the 1.8MW DC facility need to operate properly in the extreme temperatures of the San Joaquin Valley, but also withstand winds in excess of 105MPH.
The DuraTrack HZ single-axis solar tracker was chosen to meet the reliability requirements for Bakersfield 111 Solar Park. Since each motor drives approximately 17 rows of 60 modules each, the Bakersfield 111 Solar Park employs only 6 motor units to track more than 6,000 ET Solar 300W photovoltaic modules.
ET Solar's photovoltaic modules satisfy the demand of customers, and bring more returns and benefits for them. More importantly, ET Capital's tailor-made financial solutions greatly minimize the potential financing risks of Bakersfield 111 Solar Park, and ensure the implementation of project progress as planned.
"Working alongside ET Capital has been a positive and eye-opening experience," explained ATI Founder & CEO, Ron Corio. "Their impressive portfolio and skilled team have been integral to the formation and development of this project."
"ATI's differentiated technology and excellent tracking system will be valued by our customers," said Dennis She, President and CEO of ET Solar. "The collaboration with ATI enables us to deliver safe and green solar electricity on an even broader basis."
Once completed, Bakersfield 111 Solar Park will feed into Pacific Gas & Electric's electricity grid.