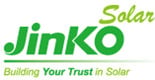 August 5, 2014 - Jinko Solar will be celebrating the official opening of its R80m, 120MW solar PV module production facility in Epping, Cape Town. Jinko Solar opened this facility in response to the roll out of the South African Renewable Energy Independent Power Producers Programme where 1484MW of solar PV projects have been procured.
The Minister of Trade and Industry, Dr Rob Davies welcomes the opening of this facility as part of the dti's drive to expand the capabilities of the South African manufacturing industry, to increase the country's industrial base and create the much needed jobs in Epping. The Green Economy has been identified as a key focus area in the Department's Industrial Policy Action Plan, and provides significant opportunities for job creation, localisation and economic growth.
Then opening of Jinko's state of the art production facility in Cape Town once again highlights the attractiveness of South Africa as an investment destination and will contribute further to establishing the country as a hub for renewable energy and other green economy industries. the dti is proud to have supported this investment having been in discussion with Jinko on their investment since 2012, through various measures, including the reduction of red tape, facilitation and support on local content requirements.