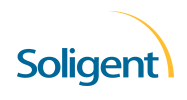 March 05, 2013 - Soligent, LLC (Soligent) today announced that Soligent has been named Master Distributor of Sharp's solar energy products in the United States.
Under the terms of the agreement, SMCA will supply its solar modules to Soligent for resale to Soligent's nationwide network of installers and distributors. The two companies will also collaborate to support Soligent's installer network with certified technical product training and sales and marketing support.
"Soligent has enjoyed a long and successful relationship with Sharp, and we are very pleased to deepen our relationship with the signing of this Master Distribution Agreement," said Tosh Fujioka, CEO of Soligent. "We are proud to continue to supply high-quality solar panels from such an established and reputable brand to a broader and growing customer base."
"Soligent and Sharp have worked together for many years. Sharp values the long term support and commitment Soligent has shown to Sharp. We look forward to working with Soligent and their dealers to support the growth of solar in the United States," said Mr. Kunio Kamimura, President, Sharp Manufacturing Company of America.
The Master Distributor agreement extends through 2014 and is expected to continue for an additional four years.