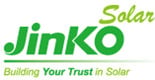 JinkoSolar Holding Co., Ltd. announced that they will provide high power PV solutions for the "Minamikyushu Solar Power Station, Kagoshima Prefecture" in Japan. As a large-scale solar power plant in Minamikyushu City, Kagoshima Prefecture, it requires 10.15 billion yen, will be financed through the Bond Program, and the total scale of the project is accounted for 25.76MW. The project is empowered by JinkoSolar high-efficiency mono-crystalline modules. It is expected to generate 29,859,639 kWh of electricity annually after the completion, which is equivalent to the domestic electricity consumption of 6,049 regular households. It will be able to reduce 10,573 tons of carbon dioxide emissions annually. Kagoshima is located in the South of Japan, and its special geographical environment sets up very high quality requirements for photovoltaic modules.
With its good reputation and its performance achievements in Japan, JinkoSolar can perfectly meet the Japanese customers' critical requirements for the products and brand recognition. As the industry's solar module manufacturing service provider, JinkoSolar constantly enhances on the component product quality and efficiency, we have broken the world record 17 times. At the same time, thanks to JinkoSolar's excellent research and development capabilities and industry-leading level of technology integration, the laboratory records also have the practical basis for the mass production, which also opens up the direction of the mass production technology for the company's subsequent advanced products.
Gener Miao,CMO of JinkoSolar mentioned, " Thanks to the Top quality and high-efficiency of our products, JinkoSolar is proud to help accelerate the development of solar energy and promote clean energy in Japan and will continuously to provide the best quality of services and modules to meet customers' expectation."