Vivint Solar, Inc. today announced financial results for the second quarter ended June 30, 2019.
Second Quarter 2019 Operating Highlights
Key operating and development highlights include:
- MW Installed of approximately 56MWs for the quarter. Total cumulative MWs installed were approximately 1,163MWs.
- Installations were 8,163 for the quarter. Cumulative installations were 169,275.
- Estimated Gross Retained Value increased by approximately $68 million during the quarter to approximately $2.1 billion. Estimated Gross Retained Value per Watt at quarter end was $2.02.
- Cost per Watt was $3.56, an increase from $3.46 in the first quarter of 2019 and an increase from $3.23 in the second quarter of 2018.
- Margin created was $49 million, a 21% increase from the second quarter of 2018. Unlevered NPV per Watt was $0.88.
Financing Activity
As of June 30, 2019, the company had approximately $153 million in undrawn capacity in the forward flow loan facilities and approximately 186 MWs of undeployed tax equity financing capacity. Subsequent to quarter end, the company entered into a $325 million credit facility that replaces its existing aggregation facility. The new credit facility reduces the cost of debt by 87.5 basis points and significantly increases the amount of upfront proceeds on a per system basis.
Summary Second Quarter 2019 Financial Results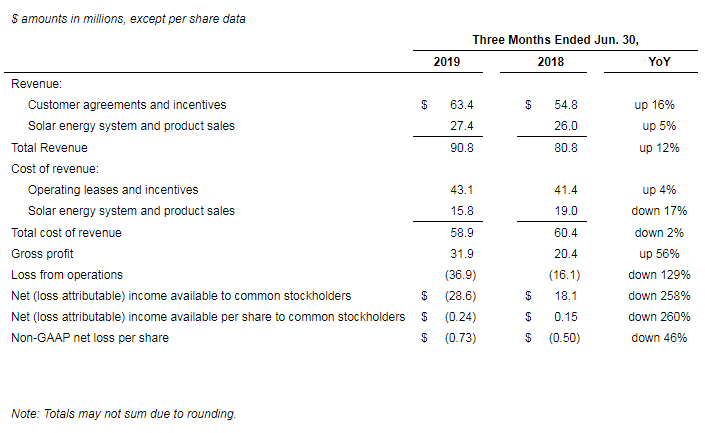 Guidance for the Third Quarter 2019
The following statements are based on current expectations. These statements are forward-looking, and actual results may differ materially. These statements supersede all prior statements regarding projected 2019 financial results.
For the third quarter of 2019, Vivint Solar expects:
- MW Installed: 62 - 65 MWs
- Cost per Watt: $3.36 - $3.44