Vivint Solar announced financial results for the second quarter ended June 30, 2018.
Second Quarter 2018 Operating Highlights
Key operating and development highlights include:
- MWs Booked of approximately 64MWs for the quarter.
- MWs Installed of approximately 47MWs for the quarter. Total cumulative MWs installed were approximately 952MWs.
- Installations were 6,678 for the quarter. Cumulative installations were 139,321.
- Estimated Retained Value increased by approximately $112 million during the quarter to approximately $1.8 billion. Estimated Retained Value per Watt at quarter end was $2.06.
- Cost per Watt was $3.11, a decrease from $3.15 in the first quarter of 2018 and an increase from $2.88 in the second quarter of 2017.
Financing Activity
As of June 30, 2018, the company had $375 million in undrawn capacity in the aggregation facility and approximately 62MWs of available installation capacity remaining in its tax equity funds. Subsequent to quarter end, the company closed a new tax equity partnership with a $50 million commitment that will fund the installation of approximately 32MWs with a new tax equity investor. In addition, the company entered into a project financing transaction with a total commitment of up to $327 million for 95MWs of new residential installations.
Summary Second Quarter 2018 Financial Results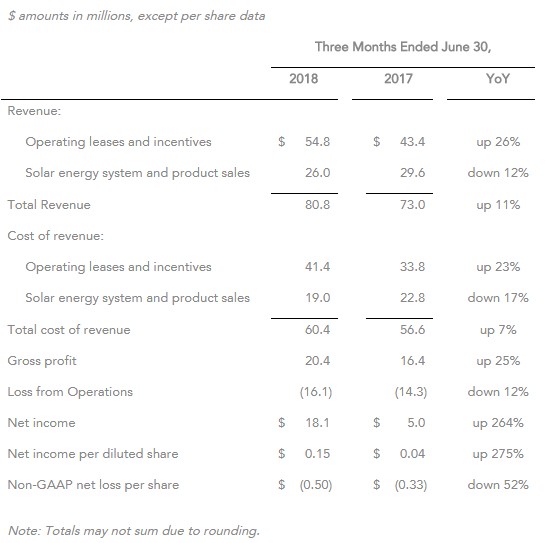 Guidance for the Third Quarter 2018
The following statements are based on current expectations. These statements are forward-looking, and actual results may differ materially. These statements supersede all prior statements regarding projected 2018 financial results.
For the third quarter of 2018, Vivint Solar expects:
- MW Installed: 51 to 54MWs
- Cost per Watt: $3.15 - $3.23