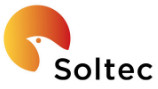 Soltec supplies complete tracker equipment to two solar PV power plants in Israel. One of them is in the Bnei Shimon regional council while the second one is being constructed in the Merhavim regional council. The project counts on a total power capacity of 17MW, 2MW of them bifacial.
"In this project, regional challenges stem from being high-desert with extreme climate conditions; being remote from population centers and infrastructure; and having harsh supply logistics and installation circumstances that pose risks to the project timeline. Our equipment is utterly proven under desert conditions," said Emilio Alfonso, Soltec's VP of Sales EMEA.
"This plant is unique, not only because of powering an astronomical observatory. It was the first utility plant with bifacial modules," said Raúl Morales, CEO of Soltec.
"Soltec pioneered in bifacial tracking but now we are commercializing a mature standard product with innovation within cost-effectiveness criteria," added Morales.