Etrion Corporation released its condensed consolidated interim financial statements and related management's discussion and analysis for the three and nine months ended September 30, 2017.
Etrion Corporation delivered strong project-level results in the third quarter of 2017 driven by the Japanese assets. Higher installed capacity and electricity production resulted in a significant increase in revenue and project-level EBITDA compared to the same period in 2016.
Third Quarter 2017 Highlights
- Strong performance in Japan, with full year results expected to be at or above to the high end of the guidance range.
- Revenue more than doubled for this third quarter compared to same period last year.
- Significant project cash distributions, enabling the Company to further optimize its capital structure by reducing the amount of its corporate bonds outstanding, while maintaining a strong unrestricted cash position to support the growth of the business.
- Deconsolidation of the Chilean solar power subsidiary resulted in a one-time, non-cash extraordinary gain of US$41.0 million.
- Construction of the 13.2 MW Komatsu solar project in northern Japan 75% complete, on budget and on schedule, with estimated connection during the second quarter of 2018.
-Growth opportunities in Japan remain strong with further projects of 190 MW (on a gross basis) targeted to reach financial close in the next 24 months.
Management Comments
Marco A. Northland, the Company's Chief Executive Officer, commented, "Japan continues to deliver very strong results. We more than doubled our revenues compared to 2016, increased our installed capacity and made significant progress on several projects with aggregate capacity of 190 MW (on a gross basis). We continue to have a strong cash position, giving us flexibility on how to fund our growth. I am very excited at the prospects over the next 24 months in this market and look forward to bringing new projects to financial close. On the operational side, our plants are performing well above plan, demonstrating superior design, technology and operations. We continue to drive cost down and restructure the business to better support our growth in Japan."
Financial Summary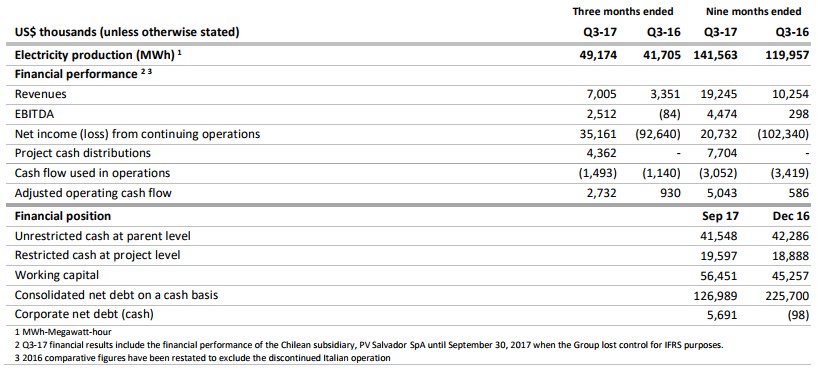 Management Change
Effective January 1, 2018, the Company has appointed Christian Lacueva as Chief Financial Officer. Mr. Lacueva replaces Paul Rapisarda, who is resigning to pursue other interests. Mr. Rapisarda has been CFO of Etrion since November 2015. Mr. Lacueva has been Etrion's Vice President of Asset Management Services and Corporate Treasurer since 2014 and held other finance positions within the Company since 2010. Etrion's CEO, Marco A. Northland, commented "I am very pleased to appoint Christian as CFO. He has intimate understanding of the business and will play an instrumental role in the Company's next growth phase. I also want to extend my gratitude to Paul for his invaluable leadership and contributions to the Company, including the successful sale of our Italian assets and restructuring of our Chilean operations. I wish him great success in his future endeavors."
Also, effective January 1, 2018, the Company has promoted Martin Oravec to the position of Chief Investment Officer. Mr. Oravec joined Etrion in 2009 and has been responsible for financing all the solar projects developed by the Company, in an aggregate amount of nearly one billion dollars since inception.