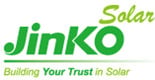 JinkoSolar Holding Co., Ltd. today announced that it supplied 106.4MWdc of PV modules to sPower. The Solverde 1 solar farm is located in Lancaster, California, in the northern LA County.
sPower developed and completed the project within 12 months. This included signing the power purchase agreement (PPA), completing interconnection, and building and commissioning the project. To meet this schedule, JinkoSolar delivered over 330,000 of its polycrystalline modules to the project site in the span of just over two months.
"At JinkoSolar, we are committed to meeting our partners' tight deadlines," said Nigel Cockroft, General Manager of JinkoSolar (U.S.) Inc. "Being selected by industry-leading sPower as the module supplier for this unique and time-sensitive project strengthens our reputation as a highly dependable module manufacturer."
"Developing a solar farm within 12 short months is a challenging feat and requires solid cooperation with experienced and capable partners," said Josh Skogen, SVP of project development for sPower. "It was important that we select a module supplier that could manage such an aggressive delivery schedule. We were confident that Jinko would be a great partner for the Solverde project, as it has a proven track record for delivering quality modules on-time."