ReneSola Ltd today announced its unaudited financial results for the second quarter ended June 30, 2016.
Second Quarter 2016 Highlights

- Revenue was $250.0 million, compared with guidance range of $280-$290 million
- Gross margin was 16.5%, compared with 17.1% in Q1 2016 and 16.5% in Q2 2015
- Net income was $5.5 million, compared with $5.7 million in Q1 2016 and net loss of $2.3 million in Q2 2015
- Total external module shipments were 282.4MW while module shipments to the Company's downstream projects were approximately 18.9MW
- Total external wafer shipments were 423.3MW compared with 351.0MW in Q1 2016 which reflects the Company's wafer capacity expansion strategy through technology improvement;
- Successfully sold approximately 20.0MW of projects in the UK; £21.2 million to be recognized in Q3 2016, additional £1.6 million be recognized within two years
- The Company now has a solar power project pipeline of 938.2MW, of which 323.8MW are late stage
- The Company connected six utility-scale projects to UK grid during the quarter with total capacity of approximately 26MW and expects the projects to be sold in Q3 2016
- LED sales up 26% sequentially with gross margin over 30%
"Our performance was solid this quarter, with significant growth in our downstream project pipeline, execution in project sales and construction, and sequential top-line growth in the LED distribution business. Although total revenue was below guidance due to recognition timing of the four UK projects sold during the quarter, we believe we should benefit from that revenue as well as the potential sale of another six UK projects in the second half of the year. Our strong project monetization outlook and continued growth in the high margin LED initiative give us confidence in our ability to transition from manufacturing business toward project development and distribution business." commented Mr. Xianshou Li, ReneSola's Chief Executive Officer.
Li continued, "For the past year, our strategy has been simple and effective, and we have executed it consistently. We are focused on project development with rapid monetization and expansion through technology improvements, as well as de-emphasis of OEM manufacturing. We have consistently been profitable for the past year, and will continue to improve our capital structure.
Second Quarter 2016 Financial Results
Revenue of $250.0 million was down 4.1% q/q and down 6.8% y/y. Revenue declined due to lower wafer ASP and reduced module shipments to external customers. The Company continues to scale back its OEM business in order to shift toward downstream project development.
Gross profit of $41.2 million was down 7.5% q/q and down 7.3% y/y. Gross margin decreased sequentially to 16.5% from 17.1% in Q1, but was unchanged relative to last year. The sequential margin decline in the quarter was primarily due to changes in product mix, coupled with margin pressure related to wafer sales.
Operating expenses of $34.8 million were 13.9% of revenue, up from 12.4% in Q1 of 2016 and up from 12.6% in Q2 of 2015. The increase in operating expenses in the quarter was largely attributable to higher sales commissions. Sequentially, SG&A expenses increased 7% while R&D expenses decreased 9%.
Operating income was $6.4 million, compared to operating income of $12.2 million in Q1 of 2016 and $10.5 million in Q2 of 2015. Operating margin decreased to 2.5% from 4.7% in Q1 of 2016 and from 3.9% in Q2 of 2015.
Non-operating expenses of $0.4 million include net interest expense of $7.8 million, offset by gains on derivatives of $2.9 million, and foreign exchange gains of $4.3 million.
Net income was $5.5 million, compared to a net income of $5.7 million in Q1 of 2016 and a net loss of $2.3 million in Q2 of 2015. Earnings per ADS were $0.05, compared to $0.06 in Q1 of 2016.
Balance Sheet, Liquidity and Capital Resources
The Company had cash and cash equivalents (including restricted cash) of $163.4 million as of June 30, 2016, compared with $190.0 million at the end of Q1 2016. The decrease of $26.6 million includes a negative foreign currency translation impact of $6.8 million. Total debt was $716.5 million, down from $737.2 million as of March 31, 2016. Total borrowings decreased by $20.7 million in the quarter, similarly benefiting from foreign currency translation.
Second Quarter Operating Highlights
The Company remains focused on developing, operating and selling high-quality solar power projects. Activity is centered on building a pipeline of distributed generation and utility-scale projects in attractive geographies worldwide.
Project Sales
The Company sold four utility-scale projects in the United Kingdom in the second quarter of 2016, representing a total of approximately 20.0MW of generating capacity. Revenue from the sales of these projects will be recognized in the third quarter of 2016.

Project Pipeline
The Company currently has 938.2MW of projects in various stages of development. The Company is starting to identify opportunity in the domestic distributed generation market, and now has 35MW of such projects in its pipeline. The Company continues to focus on developed markets with stable returns and healthy cash flow.
The geographic distribution of project pipeline is outlined in the table below.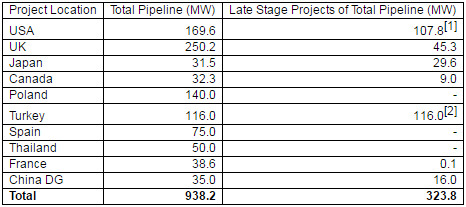 [1] As of May 31, 2016, the Company entered into a settlement agreement with Pristine Sun, LLC and certain of its affiliates (collectively, "Pristine"), by which it resolved its dispute with Pristine, dismissed the action previously filed against Pristine, and acquired 100% ownership of 85MW of solar energy projects under development in California, North Carolina, and Minnesota.
[2] With the start of operation, the projects will be transferred into a joint venture, of which Renesola will hold 50% of equity interest of the 116MW projects.
Modules and Wafers
The Company continues to provide high quality products at lower cost to select customers. The Company considers its competitive advantages to be improving conversion efficiency and supply chain management.
During the second quarter, total external module shipments were 282.4MW, down 19.5% from the first quarter of 2016 and down 12.3% from the second quarter of 2015. Total wafer shipments were 423.3MW, up 20.6% q/q and up 50.3% y/y which reflects the Company's wafer capacity expansion strategy through technology improvement.
LED
During the second quarter, ReneSola's LED business reached revenue of $7.8 million, up approximately 26% from $6.2 million in Q1 2016, and achieved a gross margin of over 30%.
The market for energy efficient products is large and growing rapidly. LED lighting is one of the most effective products for reducing energy consumption with high product quality. We are leveraging our brand name and global distribution footprint to build an attractive, high margin business that we think will grow into a meaningful contributor to our results in the years ahead.
Outlook
For Q3 2016, the Company expects revenue to be approximately $200 million and gross margin to be around 10%. This outlook reflects the impact from high polysilicon prices combined with declining wafer prices.
For full year 2016, the Company now expects revenue in the range of $900 million to $1.1 billion, compared with previous guidance of $1.0 billion to $1.2 billion. The lower revenue outlook reflects a slowdown in shipments and lower ASP.