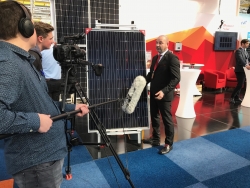 - - -
Custom Cleared Stocks Available in Europe, Door to Door Service.
- - -
- - -
Door to Door service in Australia
- - -
- - - Hanover Solar is expanding his
market in Middle East
with projects in Saudi Arabia, Iran and Iraq.
- - - Manufactured in Indonesia and China by Hanover Solar Factories with High Quality - - -
- - - Welcome to send us an email: info@hanoversolar.de with any requests you may have. - - -
- - - Prices on ENF must be considered as
"starting from" and EXW Factories with MOQ of 10MW
- - -
Hanover Solar GmbH is a German manufacturer founded in 2008 in Hannover Germany. We had a laboratory and innovation center in Germany, and factories in Indonesia and China, total capacity of 800mW per year. Our Sales Office and Warehouse for Europe, is located in the Netherlands.
We have the best lab in our headquarters, with the professional team of engineers from Germany. We are using the advanced technology, automatic ABB production equipment, as well as a scientific and strict Germany management mode. Hanover Solar modules are widely used in commercial and residential projects in Europe, Japan, New Zealand and Australia. It allows end-users to fully appreciate the high quality of German products at an affordable price.
Hanover Solar is committed to the highest levels of consistent quality in all of our products. Our solar products are subjected to up to a half dozen individual checks and inspections before being packaged. Tests are including infrared scanning, electroluminescence testing, thermal cycling, freeze-thaw testing (VDE Switzerland level), damp-heat testing, moisture penetration, UV degradation, wind load test (IEC61215 TÜV standard), waterproof test (IEC61730 TÜV standard), PID resistance, Ammonia resistance, and Salt spray resistance. Each module undergoes flash test and EL test individually, and all of the results are archived in our database.
Hanover Solar invested a brand new factory in Indonesia since 2013 with fully automatic machines. Indonesian factory is especially invested for European and North American markets, in order to help clients to solve anti-dumping cost issues. Additionally, Hanover Solar is co-operating with local listed company to develop SE-Asia markets.