Ⅰ. Solar cell laser Cutting machine



Model

YHC-20F

YHZD-2000(Cut and Break)

Laser wave length

1064nm

Laser power

20W

30W

Scribing width

30µm

Scribing speed

200mm/s ~300mm/s

Scribing accuracy

+ 10µm

Working area

200X200mm

Working power

220V/50Hz/1kVA

Working table

negative pressure adsobing and dust elimination

Cooling method

forced air cooling

Maintenance free time

100,000 hours

Manual Cutting Machine Model: YHC-20F
Optional with auto Pick Station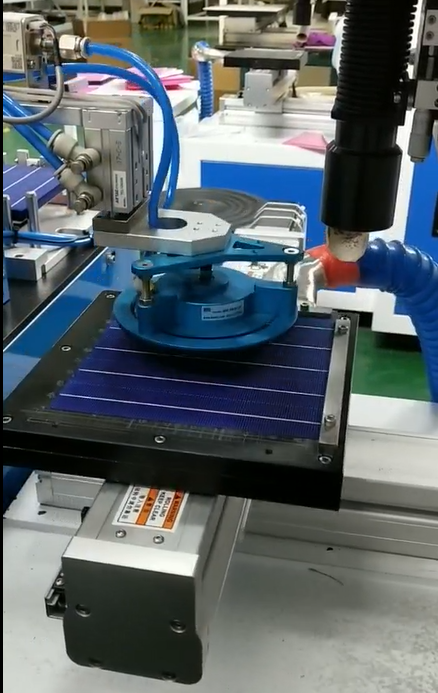 Auto Cutting&Breaking Machine: Model YHZD-2000 (Feature Product)
2000pcs/ Hrs high speed for 1/2 cell 0.3% fail rate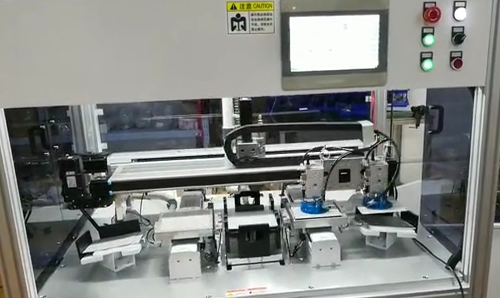 Operation Procedure:
1. The feeding arm rotated 180 degree automatically after the storage box was feeded by cell.
2. Cell positioning twice then edge positioning.
3. Vacuum sucker feeding accurately controlled by servo;
4. Cell cutting and Pick;
5. Cell sucked to transfer platform and put the on the platform to save the cell taking time.
6. The pick module is a vacuum sucker structure with two arms. One arm takes the cell and puts them on the breaking table, while the another arm takes the two half cells which are breaked on the breaked table and puts them on the discharging module.
7. Automatic mechanical breaking by simulating manual breaking which will not affect the cell efficiency ;
8. The unloading module will transfer two-half cells into the half-piece box in two directions automatically, this part can also be customized according to different demand.
9. High precision, high speed, high stability and low failure rate


Ⅱ. Solar Cell Tester
Technical specifications:
Application: Used to test the electrical performance of Mono-Si or Poly-si solar cell pieces and record the results in files.
Type specification: YHCT-AA
Machine Feature:
A grade spectrum
A grade unevenness degree of irradiance
Four-line measure, 14-bit 4-channel high speed synchronous acquisition card10 parameters display and Measurement Parameter display in Tabulation and Graphic way
Pneumatic and buffering contact
Temperature automatically compensation
Voice counts off and prompts, Counting prompt of flash
24hours Continuous work
Specifications:
Solar Cell Tester
1. Test Size: 200X200mm
2. Test rang: 0.1W-5W
Package Measurement: 94X80X210CM
Cross Weight: 158KG
Technical Parameter:
Lamp Spectrum: In line with IEC60904-9 and JISC8933 ( A Grade)
Light Intensity: 100mW/cm2 (continuous adjustable range 20-120W/cm2
Light intensity non-uniformity: ≤ ± 2% A
Instability degree of irradiation: ≤ ± 2% A
Test result consistency: ≤ ± 0.5% A
Test error of electrical properties: ≤ 2%
Single flash time: 10-30ms
Effective test range: 200X200mm(0.1-5W)
Measuring voltage: 0-0.8V(Resolution 1mV)
Measuring current: 0~0.8V (Resolution 1mV)
Test parameters: Isc, Voc, Pmax, Vm, Im, FF, EFF, Temp, Rs, RSH
Power demand: 380V(220V)/50HZ(60HZ)/3KVA


Ⅲ. Solar Simulator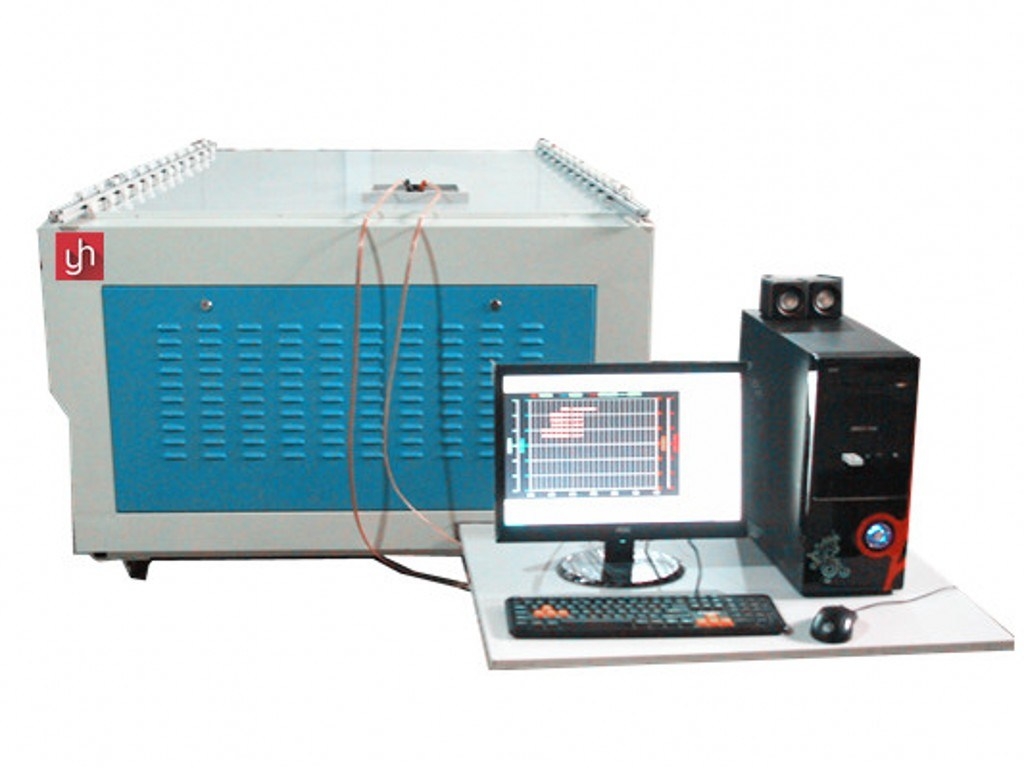 Application:
Mainly used in automatic test and result record of solar
mono-crystalline silicon, poly-crystalline silicon solar cell
module and thin-film module.
Products Features:
1. Flash impulse continuous adjustable range 10-100ms
2. Four-line measurement; 14-bit 4-channel high-speed synchronous
acquisition card, 8000 data collecting point
3. 10 parameters display;measured parameter display in tabulation and graphic way
4. Irradiance automatically compensating; temperature automatically compensating
5. Voice counts off and prompts of flash time;counting prompts of flash time
6. 24 consecutive hours of work, working life of imports Xenon lamp is 300,000 times of flash
Technical Data:
| | |
| --- | --- |
| Model | YHMT-AAA YHMT-AA |
| Lamp Spectrum | In line with IEC60904-9 and JISC8933(A Grade) |
| Light Intensity | 100mW/cm2(continuous adjustable range20-120mW/cm2) |
| Light intensity non-uniformity | ≤±2%[A] ±3% |
| Instability degree of irradiation | ≤±2%[A] ±2% |
| Test results consistency | ≤±0.5%[A] ±1% |
| Test error of electrical properties | ≤2% |
| Single flash time | 10ms-30ms 10ms |
| Effective Test Range | 1200*2000nm /5W-300W |
| Measuring Voltage | 0-100V(Resolution 1mV) |
| Measuring current | 0-20A(Resolution 1mA) |
| Environmental temperature | 15℃~30℃ |
| Test Parameters | Isc, Voc,Pmax, Vm,Im,FF,EFF,Temp,Rs,Rsh |
| power | 220V/50Hz(60Hz) |
Equipment, machine configuration:
1. Test Host(With electronic load):1 set
2. Light source(With optical system):2 Pieces
3. PC:1 set
4. High-speed data collection A/D plant:1 piece
5. Dedicated measurement software:1 set
6. Test bench:1 set
7. Standard Battery(Compensation and correction for the irradiance uniformity measurements):1 piece
8. Size:2.64*1.48*1.2m (Host)+0.86*0.61*0.95m(Spare parts)
9. G.weight:400KGS+25KGS
Ⅳ. EL tester

Application:
- Defects of solar cell material(debris, cracked, broken gate, pollution);
- Defects from the welding process(weld, desoldering);
- Mix different levels cell
Technical Features
- Its highly sensitive infrared camera can defective solar module, which
can help users know the solar module and panel from defects in material
or workmanship defects
- The equipment can be applied before and after lamination process, defect
detector is an important and effective process monitoring and testing equipment
- It consists of a set of specialized optical imaging systems and high-sensitivity camera module, which is available to user in the preparation process, product quality testing
Technical Data:
| | | |
| --- | --- | --- |
| Product model | YHEL-2400 | |
| Resolution | 6016x4000 Megapixels | |
| Shooting mode | Sing camera | |
| Sensitivity | Can detect crack width less than 0.2um | |
| Effective test area | 1200*2000mm | |
| Image acquisition time | 1~60s can be adjusted | |
| Machine size | 2300*2000*1100mm | |
| Power | Single-phrase 220V 10A, max load voltage 60V, max load currency10A | |
| Working environment temperature | -10~40℃ | |
| SNR | >56dB | |
| Humidity | 20 ~70% | |
| Test parameters | Target, Gain, Time, Gamma, Contrast, Data wide | |
| Include | Cabinet(Include infrared camera)+Computer + Software | |
Automatic Solar Module EL TesterModel: YHEL-A-2400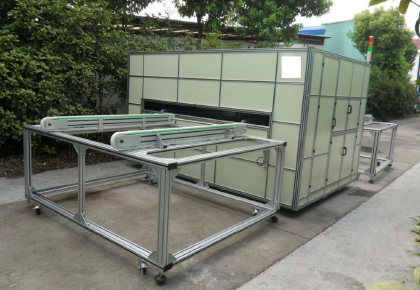 Applications:
Test and inspect the micro-crack, breakage, broken fingers of the cells and pseudo-soldering of the modules; also applicable to check or find the mismatch of the cells or strings with different power rating.
Equipment Features
- Imported CCD chips ensured superior imaging and longer useful life - High precision of multifunctional control card can be ensured the coordination work of electric control system and image acquisition system
- The solar panel can be automatically transferred, connected and image collected.
- High reliability, high precision, realized seamless connection with the automatic production
lines, reduces labor costs, maximized productivity
- Imported top key components of the system control, motive power transmission, pneumatic drive, sensing and measurement; ensures the equipment work in more stable performance and longer useful life.
Technical Specifications:
| | | |
| --- | --- | --- |
| Product model | YHEL-2400 | |
| Resolution | 6016x4000 Megapixels | |
| Shooting mode | Single or Multiple camera | |
| Sensitivity | Can detect crack width less than 0.2um | |
| Effective test area | 1200*2000mm | |
| Image acquisition time | 1~60s can be adjusted | |
| Machine size | 2300*2000*1100mm | |
| Power | Single-phrase 220V 10A, max load voltage 60V, max load currency10A | |
| Working environment temperature | -10~40℃ | |
| SNR | >56dB | |
| Humidity | 20 ~70% | |
| Test parameters | Target, Gain, Time, Gamma, Contrast, Data wide | |
| Include | Cabinet(Include infrared camera)+Computer + Software | |